TRANSFORMING LEADERSHIP THROUGHOUT THE WORLD - IN PARTNERSHIP WITH THE HUNGER PROJECT
In November 1999 we were involved in setting up a major new charity in Uganda - with The Hunger Project, the assistance of Uganda's President and Vice President, and with US$400,000 (over 2 years) provided by 6 of our clients.
SHOWN BELOW ARE A FEW OF THE PHOTOS FROM THE NOV 1999 TRIP TO UGANDA. I hope you enjoy them.
You can also read a description of the trip written by The Hunger Project - and see some more photos from the various programs that were run.
At the bottom of the page are some interesting links to different parts of The Hunger Project's Web Site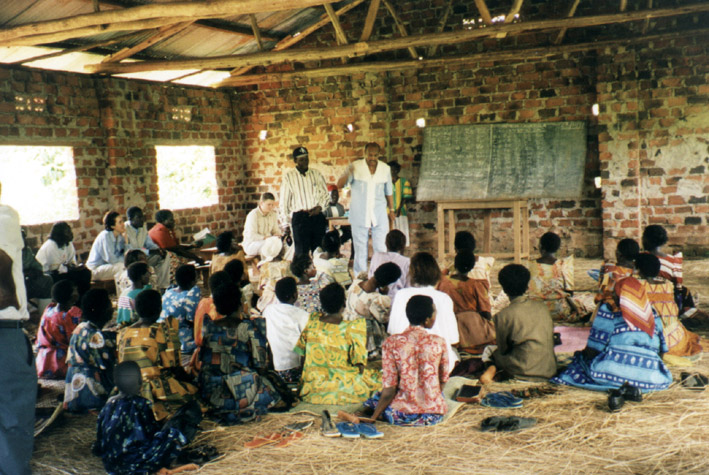 Adult literacy classes in Kirengente, Uganda.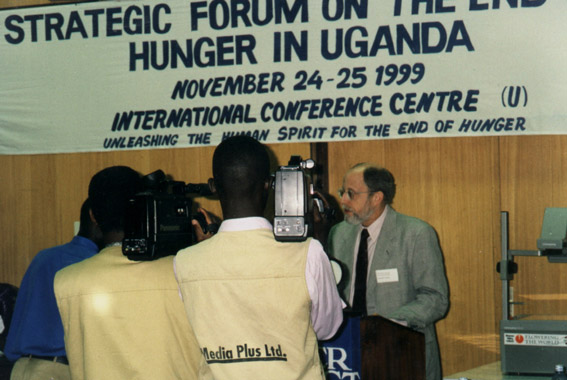 John Coonrod addressing the "Stratetegic Forum on Ending Hunger in Uganda",
which brought together 150 Government Ministers, NGO's (Non Government Organisations "Charities"), Professors, Researchers, and Farmers,
to create a Strategic-Plan-In-Action to end hunger throughout Uganda.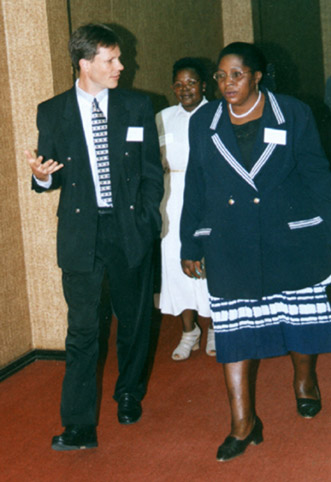 Tony Lenart talking with Josephine, the LC II Chairperson (a district of Uganda)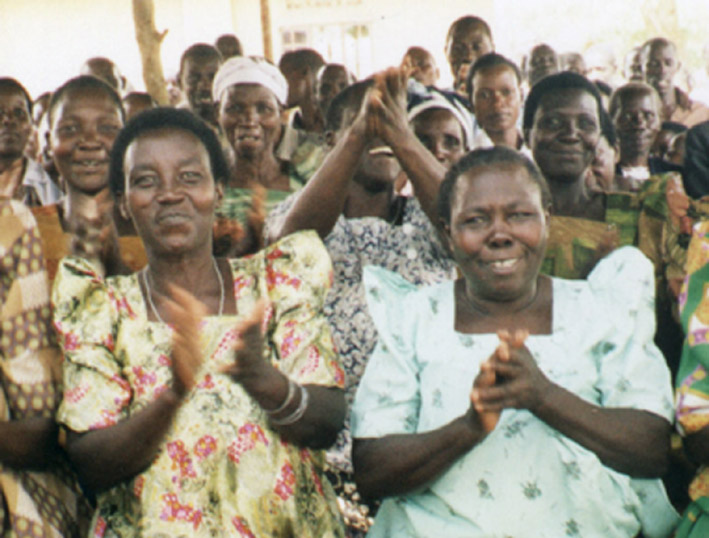 The beautiful smiling faces of the people of Uganda - full of thanks, appreciation
and partnership with the investors who are helping them develop their own leadership in ending hunger in their villages, and later their country.
Links to our partner in ending hunger, The Hunger Project
A Description of the Trip - and some more photos from the various programs that were run.
The Hunger Project Challenge - Mortality rates have almost halved in the last 20 yrs, real average incomes doubled, access to safe drinking water increased from 10 to 60%.... Read some of the good news that the papers don't talk about.
The Hunger Project Methodology - Creating a new paradigm to end hunger

Reports from The Hunger Project

© Copyright 1999, The Institute of Advanced Leadership (www.ioal.org). All rights reserved. Last updated 16th December, 1999
---
Main Pages: Home | Heaps of Free Resources (WorldUni.com) | Transforming Leadership Throughout The World | A Summary of Our Programs Training: Group Training | One-on-One Leadership Development | Performance Improvement Intensives Additional Information: Our Trainers & Facilitators | Our Purpose, Activities, & Directors | Testimonials | Options | Our Floating (City) Office, Other Offices, & Our Weekend Retreat Miscellaneous: Thoughts On Leadership | Contact Us